I finally got a chance to watch the new Kurt Cobain documentary everybody has been talking about : 'Montage of Heck '. Reading Buzz Osborne interview on the Talkhouse this morning made me jump ahead. If this documentary is 99% bullshit, I had to see for myself.
Well, as a matter of fact, I didn't like it. I haven't learned anything, and I thought it was just a collection of sounds and images, but couldn't see any insightful purpose behind it all.
I read Kurt's dairy and Charles R. Cross book "Cobain Unseen" a few years ago and I knew almost everything already : how the divorce of his parents affected him deeply, the fear of humiliation, how music and the development of Nirvana structured his life for a while, his influences and surroundings, how sudden was the exposure to massive media, as well as his struggle with heroin, the fake stomach issues to justify drug medication, the shady influence of Courtney, and of course the awful ending.
What else is there to say?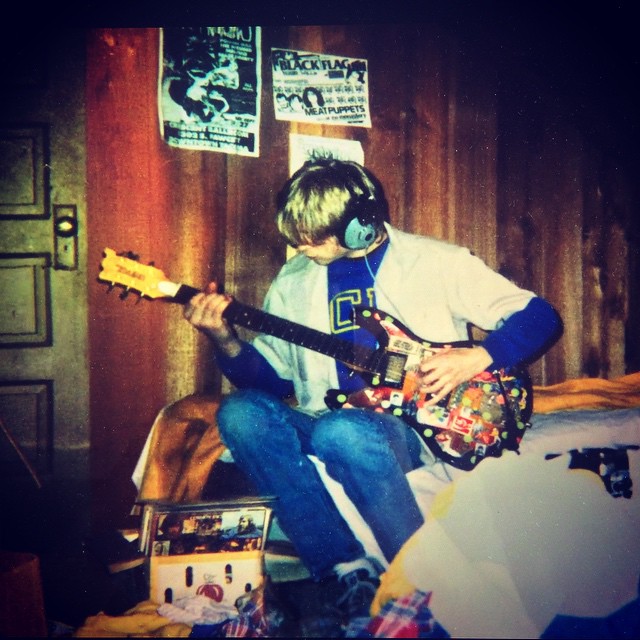 This being said, I did enjoy how the documentary was built. The animations are really great, the footage from his childhood, and some demos we can hear in the backround turned out being really inspiring. Unfortunately, the final result is nothing but a montage, and there is no convincing thread holding the images together.
Footages of Kurt and Courtney totally high while taking care of Frances Bean Cobain are terrible, and make you want to shut the whole thing down. What's the point of showing this anyway?
It is obvious that Kurt was a smart yet fragile fellow, with a huge talent, and I do believe he is one of the finest songwriters ever. But as many others, he got crushed by success and mass exposure, and he couldn't cope with being the leader of an entire generation. That's basically all there is to know. There were many others like him. Celebrity and money often lead to bad influences, bad surroundings and bad people, all of this combined with drugs…well, it also usually leads to a bad ending.
Save two hours of your life for something else, you obviously don't need to see 'Montage of Heck'.
So there.